Infrastructure
The learning environment on the campus is an unmatched combination of inspiring mentoring and presence of excellent physical infrastructure viz. well equipped library, computer center with LAN and Broadband internet, conference room, classrooms and accommodation facilities.
Building
The campus, set in serene and verdant environs, not only provides an excellent ambience for the community's academic endeavors but also enables them with an opportunity to unwind. The intricate planning to ensure that nature is maintained at its splendid best in a campus replete with ergonomically designed buildings ensures well-manicured lawns and stands of large trees on a beautiful virgin site that makes the institute one of the most beautiful campuses.

The campus is located about 06 kms from Bhavnagar Railway Station and 02 kms from Bhavnagar Airport.
Library & Reading Room
Each College has a separate library having enough space. There is proper lighting and ventilation facility available. Books and Journals are displayed in open racks and glass door cupboards and are arranged subject wise to facilitate easy referring of books. A book, magazines, journals, newspaper and other literature is properly and safely stored. Library is equipped with Staff table, separate cabin cum counter for librarians, Computers etc. There are many facilities provided to students to make more usage of Books of Library.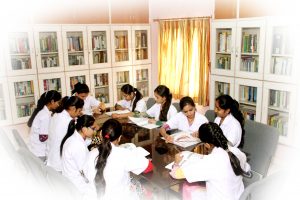 Computer Lab
The Trust has its own computer labs with faster internet access facility for providing the students with greater opportunities to hone their particular talents and knowledge- skills, helping them to remain updated on emerging trends and technologies.
Class Rooms
All the classrooms are equipped with latest technology like audiovisuals, Projectors and Mikes. The rooms are well ventilated and properly lighted. Each classroom is having students chair, black chalk boards/ white boards lecture stand, table and chair for teachers.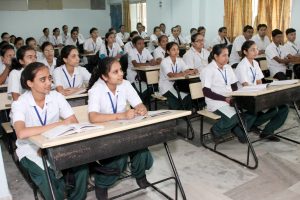 Auditorium
The air conditioned auditorium has the suitable configuration to facilitate effective discussion and deliberation with a seating capacity of over 150. The auditorium serves as a theatre for various programmes and it also helps in organizing the seminars, conferences, educational & recreational fests.
Conference Room
Air conditioned Conference Room for meetings are equipped with furniture to accommodate 25 persons. It is provided with computer, LCD Projector and White Board.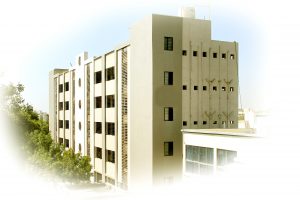 Hostel Facility
The Hostel is a three-storied building and students are accommodated in partially furnished rooms. At the reception, there is an office for warden and visiting room where relatives and visitors are permitted to meet their wards. There is one spacious dining hall where meals are served. There is one kitchen and store adjacent to it. All efforts are made to provide hygienically prepared balanced meals to the students at a reasonable cost. Students can spend their leisure time playing indoor / outdoor games.
Transportation Facility
The Trust provides uninterrupted transport facility to the students & faculties. College is having 3X2, 2X2 buses and TATA Magic for transportation purpose.
Play Ground
The Trust is also having sufficient space for play ground in which students can play various games like Cricket, Volleyball, Badminton, Basketball etc.
Canteen
The institute is providing an informal restaurant that is Canteen, with an all day menu serving high quality menu at reasonable prices in a modern, well designed environment that is a nice place for budding intellectuals.
Common Room for Girls
To facilitate our female students, the Institute has established a spacious and comfortable common room. This space has been designed to give female students a place to relax, offer prayers, study, have informal discussions in free time available.
Cultural Events
It's an entertaining and enlightening event for the Students, Faculty, Staff and the Community. Educational and entertaining, the institute's cultural events include student productions in dance, music and theater as well as art exhibits, international films, and guest speakers. We are planning to organize such kind of events each year.